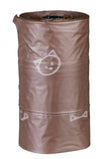 Price
Regular price €4.49 Regular price
Home Delivery
Out of stock for Home Delivery
STOCK AVAILABILITY
Store
Availability
Quantity
Free delivery over €29
Fast & Secure shipping
96% of our orders are delivered next day
Over 23,000 TrustPilot 5 star reviews
Trixie Cat Waste Bags

Cat litter poop bags for the daily cleaning of the cat litter tray made of eco friendly corn starch and therefore kind to the enviroment.   As big and strong as leading plastic poop bags, while being plant based.  

These compostable bags are made from cornstarch and can be composted at home, or disposed of as usual.  They completely biodegrade back to their natural elements.

made of corn starch
biodegradable, to keep the environment clean

Size : 3 rolls (10 bags per roll)

**OK Compost TUV Home Compostable, ASTM 6400 and EN13432 certified.