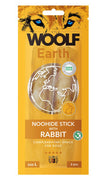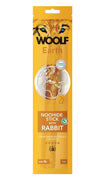 woolf earth - noohide sticks with rabbit
Price
Regular price €4.80 Regular price
Home Delivery
Out of stock for Home Delivery
STOCK AVAILABILITY
Store
Availability
Quantity
Free delivery over €29
Fast & Secure shipping
96% of our orders are delivered next day
Over 23,000 TrustPilot 5 star reviews
Woolf Earth - Noohide Sticks with Rabbit

The NOOHIDE Sticks by Wollf are a strong chew treat for dogs.  This dog chew treat looks and feels like raw hide but are made with Gelatin and contain no rawhide. The products are not chemically treated, completely natural with no additives or sugars.  Sizes for all dog breeds.

Sizes available:

Small (suitable for Small - Medium dogs)

Length 10cm diameter 1cm (10 pack - 90g)

Large (suitable for Medium - Large dogs)

Length 11cm  diameter 2.5cm (2 pack - 85g)

X-Large (suitable for Large - X-Large dogs)

Lenght 23cm diameter 2.5cm (single stick - 85g)

Composition

Gelatin from hides 43.8%
Gelatin from beef bone 30%
Meat: rabbit 20%
Glycerin 1%, T
apioca 5%,
Sorbic acid 0.2%

Analytical constituents

Crude protein 60%, Crude fat 2%, Crude fiber 2%, Moisture 14%.